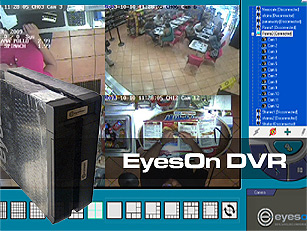 Remote viewing easy, fast, and precise!
Is being consistently productive too good to be true?
Wish you had the most precise and efficient way to find events?
Want to view multiple locations simultaneously?
Eyeson Multiview software makes it happen!
You will not find a more efficient way of viewing your cameras from a remote device than with Eyeson's Multiview Software.
100% of Eyeson clients agree: nothing compares to the ease of use and speed of Eyeson's viewing software.
Remote view from computers, tablets, and cell phones.
Control cameras, listen to audio, and zoom on what matters.
Copy live and recorded images to email and documents.
Create custom views from one location or several.
Intelligent Design
Well designed, perfectly implemented, and fully supported surveillance provides full accountability for your business, becoming an essential management tool for business and security improvement.
A well designed surveillance system must match operations, providing for full accountability of everything that happens in the stores. It must enhance management ability to foster a positive business culture, where employees work as a team towards higher profitability and management presence is felt in a positive way in all stores at all times.
Every EyesOn system is professionally designed by consultants highly experienced in the use and deployment of electronic security equipment, but most importantly, with a deep understanding of business operations and how our technology will enhance operational procedures, sales, and security.
EyesOn systems are capable of linking to video footage all the elements of a transaction. Customer, staff, monetary exchange, merchandise, and the POS record of every transaction is linked for easy one-click review.
Video Platform Flexibility
Hybrid DVRs deliver excellent surveillance performance and flexibility through the seamless combination of analog and megapixel IP technology in one easy to use interface. Each EyesOn DVR can host up to 64 cameras and up to 64TB of storage.
Keep your footage for as long as needed. Preserve the evidence of slip and falls, theft, and any other relevant event in your business.
Integration Capabilities
EyesOn Multiview Surveillance integrates with a wealth of systems and devices, providing for the most feature rich and flexible intelligent surveillance platform in the market. Some of our integrations: (crie links nesta area)
Over 70 POS systems from various industries and countries.
RFID
Access Control
Alarm Systems
Sensors (doors, temperature, humidity, motion, traffic counters)
Bar Code Scanners
Electronic Scales
CLICK HERE if you have a device you would like to integrate with video footage not listed above. Our engineers are always ready for a new challenge! Link com um formulario para pedir contato e informacoes.
High Quality and Warranty Standards
EyesOn DVR's are manufactured in the USA and come with a three-year warranty for parts and labor. Customers may also sign up for our unique @ease Complete Care Program for additional service benefits, such as advance replacement, automatic updates, system health checks, software upgrades, on demand support and training, and more. (crie links nesta area)